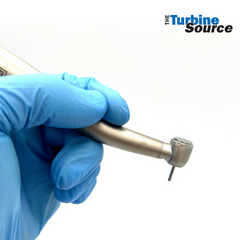 It is very easy to adjust the PSI setting up or down, which can lead to the PSI being inadvertently set too high. When the air pressure is set higher than the high speed handpiece's recommended PSI, it will operate at a higher rpm. While this means more power, it also creates more pressure on the components of the turbine than they were designed to withstand, thus significantly reducing the service life.
For example, the Star 430 SW high speed handpiece's recommended air pressure is 32 PSI. At 32 PSI this handpiece will operate at approximately 430,000 rpm, which is the maximum rpm for this handpiece. At a higher PSI setting, the turbine would spin faster than 430,000 rpm which would cause damage to the turbine in a short period of time.
To check your PSI setting:
Step 1: Connect your high speed handpiece (with bur inserted) to your air supply.
Step 2: Press your foot pedal fully and check your air pressure gauge reading. This is your maximum PSI setting. *If you suspect your air pressure gauge is inaccurate, test using a handpiece pressure test gauge.
Step 3: Adjust your maximum PSI to between 32-35 PSI.
Most handpieces have a recommended air pressure of 32-35 PSI.  If you are not exactly sure what your particular handpiece's recommended PSI is, 32-35 PSI is a good standard setting.
We are here to help! At The Turbine Source, we feel our technical support is second to none. All questions are worth asking! With over 30 years of experience, with all makes and models of handpieces, chances are that any issue you run into we have had to deal with that issue as well. We would be happy to help in any way we can, so please feel free to contact us! 
Josh Gross is the owner and founder of The Turbine Source with over 30 years of experience in the dental handpiece and dental handpiece turbine business. 
support@theturbinesource.com
866-784-0366